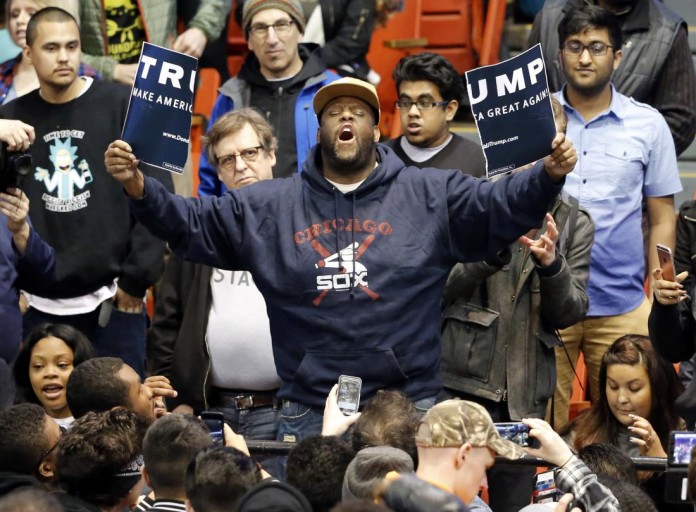 Please watch this video through to the end. Those who support Trump and the ignorant, violent hostility he intentionally fosters have no place calling themselves patriots. This is beyond politics. Trump is toxic. Trump is the only presidential candidate to have openly encouraged violence against protesters at rallies while flippantly offering to pay their legal bills.
"Knock the crap out of 'em, would you? Seriously. Just knock the hell— I promise you, I will pay for the legal fees, I promise." —Donald Trump at his campaign rally on 2/1/16
There's no comparison. No other Republican or Democratic candidate has engaged in such hostile rhetoric towards women, minorities and the poor (not to mention outrageous falsehoods). Furthermore, none of the other candidates have used their podium at rallies to openly encourage their supporters to "rough up" protesters. Even Trump is too morally-bankrupt and insecure to take the high road, reveling in openly taunting, mocking and dehumanizing protesters who dare to speak out against his bigotry and divisive rhetoric.
"Go home to mommy! GET OUT!"
Despite all the bluster, this is a man who thinks he can dish out the insults like a schoolyard brat, but is so thin-skinned he can't take any criticism himself, throwing tantrums, launching petty insults, and starting late night Twitter feuds with TV personalities. Trump is so insecure he felt the need to go on a nationally-televised debate to literally assure the American populace about his dick size — unprompted.
This is presidential material? Should this petulant man-child have access to the nuclear codes and the full might of the US military? A reality-TV star with a string of failed businesses and a shitty lifestyle brand? He'd be a more fitting president of a frat house than The White House. Trump is not a stupid person. He is savvy enough to know exactly what the stupid and gullible want to hear and knows how to easily manipulate them. Trump inherited millions from his father. NEVER once in his life has Donald Trump known how it is to be an ordinary, working American — nor does he care to understand.
Even the inheritance that granted Donald Trump such a great advantage, was itself enabled and buffered by governmental aid and financing programs. Trump is not a self-made man, he's just a professional con-man. A reality-TV star playing out his nasty infomercial for the American populace.
The truth about Trump? Over 75% of Trump's 77 statements fact-checked by the Pulitzer-prize winning Politifact were determined to be false or misleading, an unprecedented amount for any politican they've previously researched. Read the reports, follow the cited sources and make your own conclusions.
"You can't con people, at least not for long. You can create excitement, you can do wonderful promotion and get all kinds of press, and you can throw in a little hyperbole. But if you don't deliver the goods, people will eventually catch on." —Donald J. Trump, The Art of the Deal