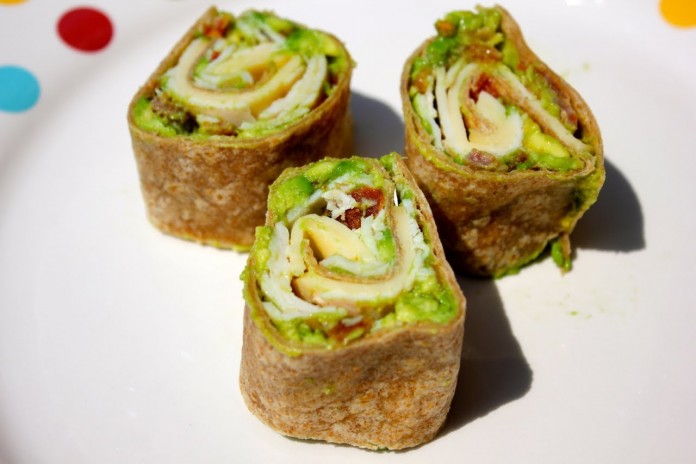 4 Slices—whole-wheat bread
1 Tbsp—light mayonnaise
1 Tbsp—deli mustard
1/2 C—cucumber, peeled and thinly sliced
1/4 C—jarred roasted red peppers
2 oz—low-sodium deli turkey breast
Remove the crusts from the bread and flatten each slice with a rolling pen.
Combine mayonnaise and mustard. Spread about 1/2 tablespoon on each bread slice.
Arrange cucumbers and red peppers evenly on each slice of bread, and top with 1/2 ounce turkey.
Roll each slice into a log, and cut each log into four pieces with a sharp knife. Serve immediately, or refrigerate logs until to serve (cut prior to serving).
Younger children can help flatten the bread and roll the logs. Older children can make the recipe themselves.
*Prep time: 10 minutes, Cook time: none
*Yield: 4 servings, Serving Size: 1 log (4 pieces)
Each Serving Provides:
Calories-106
total fat-2g
saturated fat-0g
cholesterol-11mg
sodium-275mg
total fiber-2g
protein-7g
carbohydrates-12g
potassium-12mg
vitamin A-0%
vitamin C-0%
calcium-2%
iron-4%