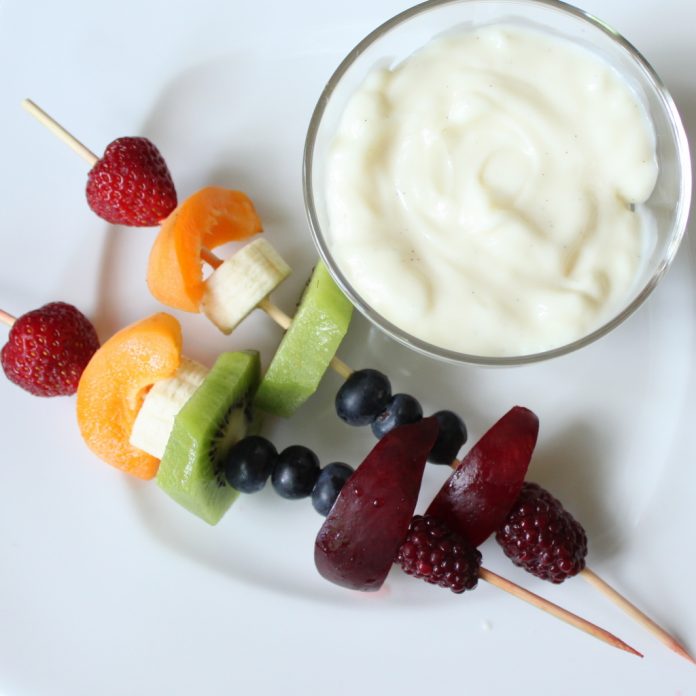 1 Cup strawberries, rinsed, stems removed, and cut in half
1 Cup fresh pineapple, diced (or canned pineapple chucks in juice, drained)
1/2 Cup blackberries
1 tangerine or Clementine, peeled and cut into 8 segments
8 6-inch wooden skewers
Thread two strawberry halves, two pineapple chunks, two blackberries, and one tangerine segment on each skewer.
To prepare the dip, puree strawberries in a blender or food processor. Add yogurt, vanilla, and honey, and mix well.
Serve two skewers with yogurt dip on the side.
For Dip:
1 Cup strawberries, rinsed, stems removed, and cut in half
1/4 Cup fat-free plain yogurt
1/8 tsp vanilla extract
1 Tbsp honey
Note: Skewers have sharp edges, so monitor younger children while eating, or take the fruit off the skewers for them.
Chefs In Training: Younger children can rinse the fruit, thread onto skewers, and mix the dip. Older children can make the recipe themselves.
Prep time: 15 minutes
Cook time: none
Yield: 4 servings
Serving Size: 2 skewers, 1 1/2 Tbsp dip
Each Serving Provides:
calories 71
total fat 0 g
saturated fat 0 g
cholesterol 0 mg
sodium 10 mg
total fiber 2 g
protein 1 g
carbohydrates 18 g
potassium 174 mg
vitamin A 6%
vitamin C 70%
calcium 4%
iron 2%
*Percent Daily Values are based on a 2,000 calorie diet.