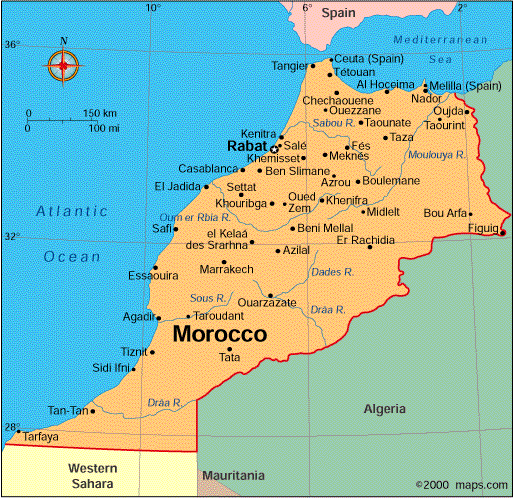 Have Gun, Will Travel
By William Reed
Everybody knows that there's no such a thing as a "free lunch." Now, let's see how good the Black Press is explaining to audiences about Morocco and the disputed territory of Western Sahara.  The Kingdom of Morocco continues to control most of the Western Sahara, and when King Mohammed VI met with President Barack Obama during his U.S. visit in November 2013, the monarch sought greater U.S. support in his kingdom's feud with regional rival Algeria. The King opposes independence for Western Sahara, and says Morocco will never agree to one: "We shall not give up one inch of our beloved Sahara, not a grain of its sand."
The people who oppose the king and support the separatist movement called members of America's Black Press who took an expenses-paid trip to Morocco "pawns" of the Moroccan government. So, why is the Kingdom of Morocco trying to connect with Blacks in America? Morocco is in the Maghreb region of North Africa characterized by rugged mountainous interior and large portions of desert. Morocco's population exceeds 33 million. Its political capital is Rabat, although the largest city is Casablanca. Morocco's culture is a blend of Arab, indigenous Berber, African, and European influences. Morocco claims the territory of Western Sahara as the "Southern Provinces." The territory has been disputed between Morocco and the Algerian-backed Polisario Front since it was annexed by Morocco in 1975, leading to a guerrilla war with indigenous forces that were brought to a cease-fire in 1991.
The Black Press' trip to Morocco was an outgrowth of a visitation Jesse Jackson made there during which he urged Moroccan leaders to reach out to Black organizations so that they can gain a better understanding of the country and its challenges.  A 14-person delegation from the National Newspaper Publishers Association (NNPA) spent a week in the country as "part of series of no-strings attached government-sponsored trips" by African-American organizations to Morocco to give them first-hand looks at the country.
The Western Sahara dispute is a decades-long dispute between Morocco and the Saharawi Polisario Front. Algeria's government sides with the Polisario. The United Nations' Secretary General recently named Christopher Ross as his personal envoy for Western Sahara, to work on the dispute.
So far the Jackson/Moroccan strategy to influence Black Americans' opinions on the issue has worked. The nation's oldest and largest association of African-American lawyers and judges, the National Bar Association (NBA) held its Judicial Council Mid Winter Conference in January 2014 in Rabat, Morocco at the Gaylord National Resort & Convention Center. Officials of the NBA say they paid their own way there as about 130 members staged their annual midwinter meeting.
The conflict on this matter has been between the National Association of Black Journalists (NABJ) and NNPA. The difference between the two groups is primarily one of employers, who can come and go as they wish, and "employees" who must follow "company rules." Leading mainstream news organizations prohibit employees from accepting trips from governments or other sources.
Rather than helping Black audiences relate to Morocco and common interests, the NABJ adopted a "holier than thou" posture. But, in reality, the NABJ had struck a deal with Morocco for $35,000 in sponsorships for their January Hall of Fame Induction ceremony at the Newseum in Washington. Of the "sponsorship package" $10,000 was to be in cash and $25,000 in travel vouchers good for any of the cities where the national airline carrier of Morocco, flies. Royal Air Maroc is based in Casablanca and flies to 78 cities across Africa, Asia, Europe and North America.
This hardly is the first time The Black Press has taken a different path and posture in Africa than mainstream media. These international activities illustrate that Jesse is still relevant in Black life on the planet, as is America's Black press. For the strategy to be considered successful, reports with context and insight on the situation will be needed. Gary L. Flowers, an NNPA contributor and long-time Jackson associate urges more Blacks "go to Morocco."
William Reed is publisher of "Who's Who in Black Corporate America" and available for projects via the BaileyGroup.org