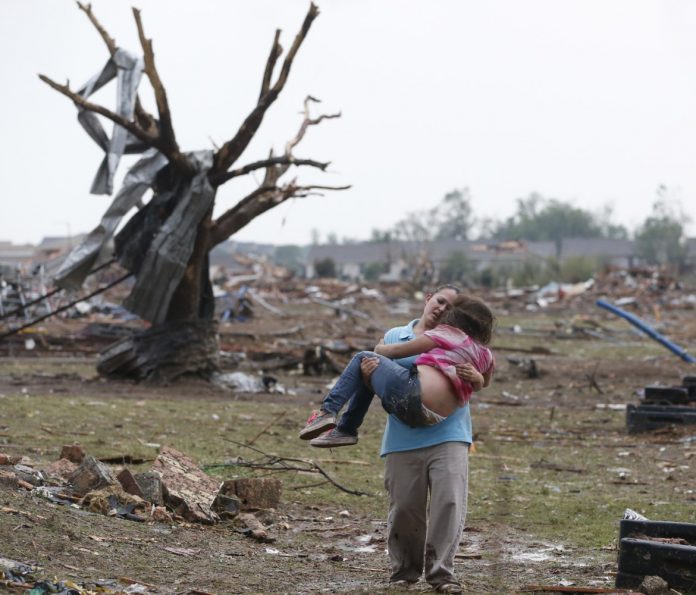 What Parents And Caregivers Can Do:
It is important for parents and other caregivers to understand what is causing a child's anxieties and fears. Following a disaster, children are most afraid that:
The event will happen again.
Someone close to them will be killed or injured.
They will be left alone or separated from their family.
Parents and caregivers can clarify misunderstandings of risk and danger by acknowledging children's concerns and perceptions. Discussions of preparedness plans can strengthen a child's sense of safety and security. Listen to what a child is saying. If a young child asks questions about the event, answer them simply without the elaboration needed for an older child or adult. Children vary in the amount of information they need and can use. If a child has difficulty expressing his or her thoughts and feelings, then allowing them to draw a picture or tell a story of what happened may help.
Parents and Caregivers Can Take the Following Actions:
Encourage your children to talk and listen to their concerns.
Calmly provide factual information about the disaster and plans for insuring their ongoing safety.
Involve your children by giving them specific tasks to let them know they can help restore family and community life.
Spend extra time with your children.
Re-establish daily routines for work, school, play, meals, and rest.
Monitor And Limit Your Family's Exposure To The Media-News coverage of the disaster can cause fear, confusion and anxiety in children. This is particularly true for a large-scale disaster or terrorist event, in which significant property damage and loss of life has occurred. Especially for younger children, repeatedly watching images of an event can cause them to believe the event is occurring again and again. Parents and caregivers should be available to encourage communication and provide explanations when children are permitted to watch television or use the Internet if images or news about the disaster are being shown. Parents can also limit their own exposure to anxiety-provoking information.
Use Support Networks-Parents and caregivers can best help children when they understand their own feelings and have developed ways of coping themselves. One way of doing this is to build and use social support systems of family, friends, community organizations, faith-based institutions or other resources. In the event a disaster strikes, they can call on these support systems to help them manage their reactions. In turn, parents and caregivers are more available and better able to support their children. If a child continues to be very upset by what happened or if reactions interfere with their school work or their relationships at home or with their friends, it may be appropriate to talk with the child's primary care physician or a mental health provider who specializes in children's needs.
Prepare Your Family-Preparing for disaster helps everyone in the family accept the fact that disasters do happen, and that they can do something about it. Families should work together to identify and collect the resources needed to meet basic needs during and after disaster. When people feel prepared, they cope better.
Take the following actions with your family to get prepared:
Get Informed:
Call your local emergency management office or local American Red Cross chapter and ask about the specific hazards in your community and about your risk to those hazards. Also learn about community response plans, evacuation plans and routes, community warning systems, and nearby buildings that are designated as disaster shelters.
Learn about the emergency plans and procedures that exist in places you and your family spend time. Priority locations include places of employment, schools, and childcare centers.
Create a Family Disaster Plan:
Discuss with your family the hazards that could impact your local area, the potential for community evacuation or sheltering, and your community's warning systems and what to do if they are used.
Determine where to meet in the event of an emergency. Designate one location right outside your home in case of a sudden emergency, like a fire, and another location outside your neighborhood in case you can't return home.
Ask an out-of-town friend or relative to be your emergency contact. Following a disaster, family members should call this person and tell them where they are.
Make a communication plan where all family members know how to contact each other. A form for recording this information can be found at www.ready.gov.
Include provisions for your pets in your family disaster plan.
Practice the plan.
Once you have developed your plan, you need to practice and maintain it. For example, ask questions to make sure your family remembers meeting places, phone numbers, and safety rules. Conduct routine fire and emergency evacuation drills, test fire alarms, and replace and update disaster supplies.
The Federal Emergency Management Agency's Community and Family Preparedness Program and American Red Cross Community Disaster Education are nationwide efforts to help people prepare for disasters of all types. For more information, please contact your local emergency management office or American Red Cross chapter.