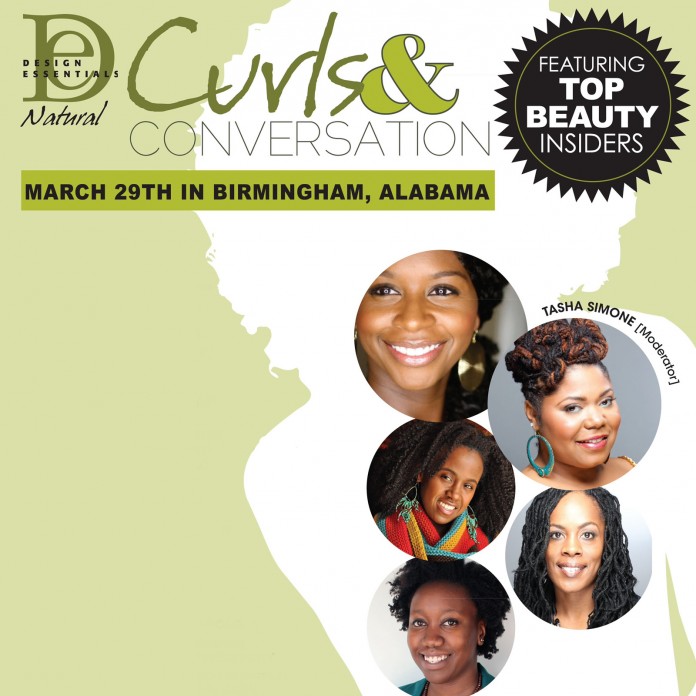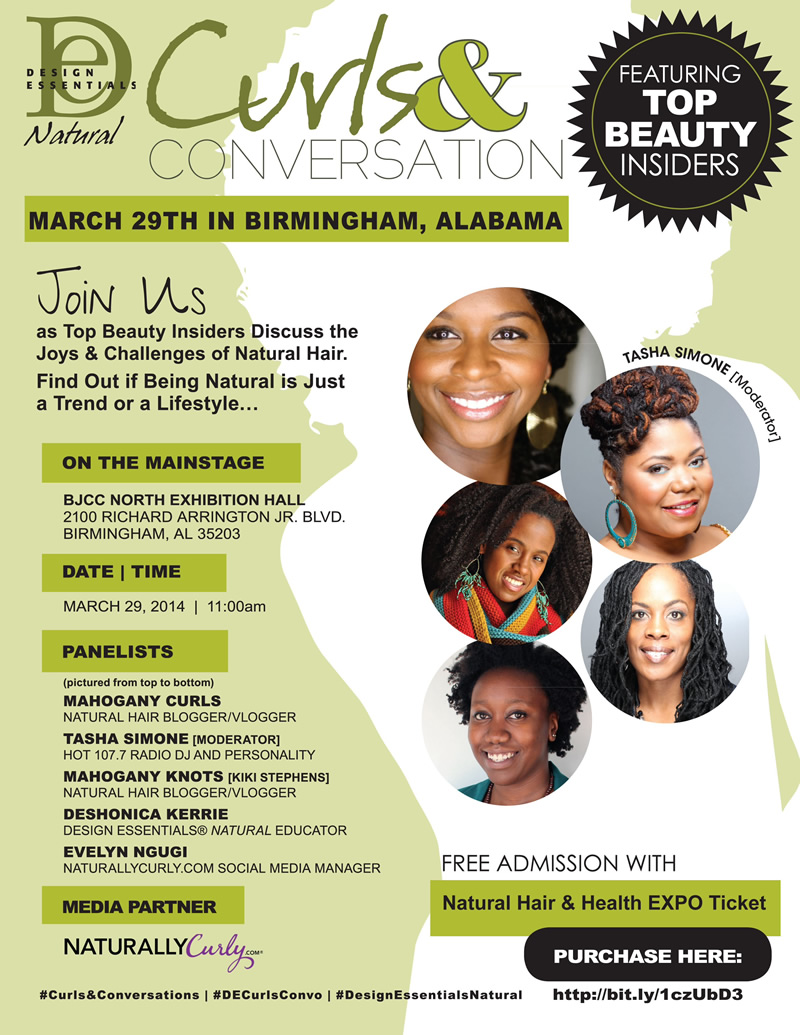 *Press Release*
The 3rd Annual Visions Natural Hair & Health Expo is taking place Saturday, March 29th at the Birmingham Jefferson Convention Conference, Curls & Conversation will convene top beauty insiders and hair care experts to allow everyday women the opportunity to share their common curly-haired experiences; get solutions to their naturally curly hair challenges; and get recommendations from the award-winning line of Design Essentials® Natural.
Hosted by Birmingham's Tasha Simone of Hot 107.7 FM, the conversation will center on topics such as: whether natural hair is a trend or a movement;transitioning from relaxed to natural; saving time with managing and styling naturally curly tresses; having healthy hair while maintaining a healthy life;natural hair images in the media; and dealing with reactions to your naturally curly hair.
Featured top beauty insiders leading the conversation include:
Jessica Bailey from MahoganyCurls™, who has captured the curly YouTube world with more than 22 million viewers and has recently been featured in Jet, Lucky, Ebony and ESSENCE magazines for her inspirational styling tutorials for naturally curly hair.
Kiki Stephens from MahoganyKnots, who loves to bring her humor as well as her expertise to the curly world stage with more than 4.5 million viewers on YouTube.
Deshonica Kerrie, Master Design Essentials® Natural Hairstylist, who'll share how she helps clients lead a healthy life while embracing their natural textures and achieving head-turning styles.
Evelyn Ngugi from NaturallyCurly.com, a social media superstar who also runs the online talk forum, CurlTalk.
In addition to dialogue, educators will be on hand to walk attendees through the complete Design Essentials® Natural collection, introduce the line's newest products, address attendees hair concerns and questions, and provide style tips using some of time-savings product picks within the hair care line.
For those unable to attend this event live, NaturallyCurly.com will provide insights shared from the chat; interviews with participating beauty insiders; and video and photo snapshots from the entire Visions Natural Hair & Health Expo to online audiences. To access this information visit www.NaturallyCurly.com or visit them on Facebook, Twitter or Instagram.
WHAT: Design Essentials Natural & NaturallyCurly.com Kick-off Curls & Conversation 2014 Tour @ Visions Natural Hair & Health Expo, Birmingham
WHEN: March 29, 2014
WHERE: Birmingham Jefferson Convention Complex North Exhibition Hall, 2100 Richard Arrington Jr Blvd N, Birmingham, AL 35203
TIME: 11:00am – 12:30pm CST
PURCHASE TICKETS: http://bit.ly/1czUbD3
HASHTAGS: #Curls&Conversations #DECurlsConvo #DesignEssentialsNatural