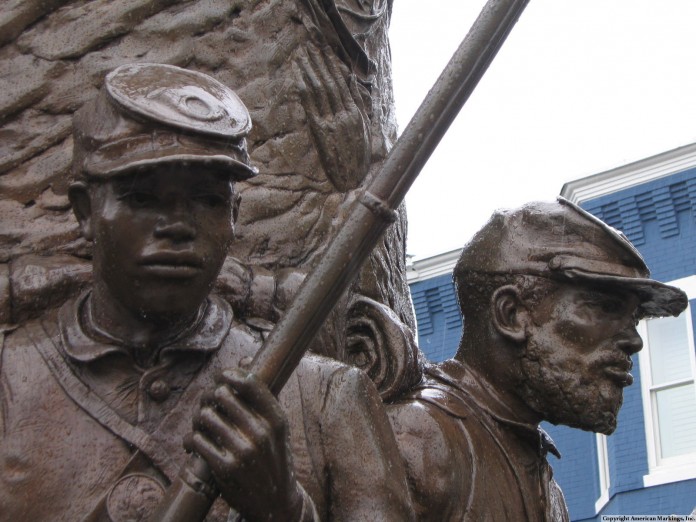 The Connecticut Twenty-Ninth Colored Regiment, C.V. Infantry; New
The African-American Civil War Memorial-The Spirit of Freedom; Washington, District of Columbia.
Memorial to Robert Gould Shaw and the Massachusetts 54th Regiment; Washington, District of Columbia.
2nd Regiment Infantry, U.S. Colored Troops; Fort Myers, Flordia.
Colored Soldiers Monument (AKA Kentucky African American Civil Was  Veterans Monument); Frankfort, Kentucky.
In Memory of More Than 400 Prominent United States Colored Troops from Kent County; Chestertown, Maryland.
African-American Monument; Vicksburg, Mississippi
1st Kansas Colored Infantry Civil War Mounument-"Battle of Island Mound", Butler, Missouri.
56th United States Colored Troops Monument; St. Louis, Missouri.
Soldiers' Memorial at Lincoln University, Missouri; Jefferson City, Missouri
In Memory of the Colored Union Soldiers; Hertford, North Carolina
United States Colored Troops National Monument; Nashville, Tennessee.
West Point Monument (AKA Norfolk African-American Civil War Memorial); Norfolk, Virginia.
Civil War Monument; Portsmouth, Virginia.
Freedom Park-Helena, Arkansas.
African-American Soldiers Monument, Danbury, Connecticut
African-American Medal of Honor Recipients Memorial, Wilmington, Delaware
African American Civil War Monument, Decatur, Illinois
Union Monument at Fort Butler, Donaldsonville, Louisiana
United States Colored Troops Civile War Memorial Monument, Lexington Park, Maryland.
54th Regiment Massachusetts Voluntary Infantry Plaza, New Bedford, Massachusetts.
Corinth Contraband Camp, Corinth, Mississippi.
All Wars Memorial to Colored Soldiers & Sailors, Philadelphia, Pennsylvania.
Camp William Penn Memorial, Cheltenham, PA
Monument to the 1st Regiment, Kansas Colored Volunteers, Honey Springs Battlefield, Checotah, Oklahoma.
Monument at Petersburg National Battlefield, Petersburg, Virginia.