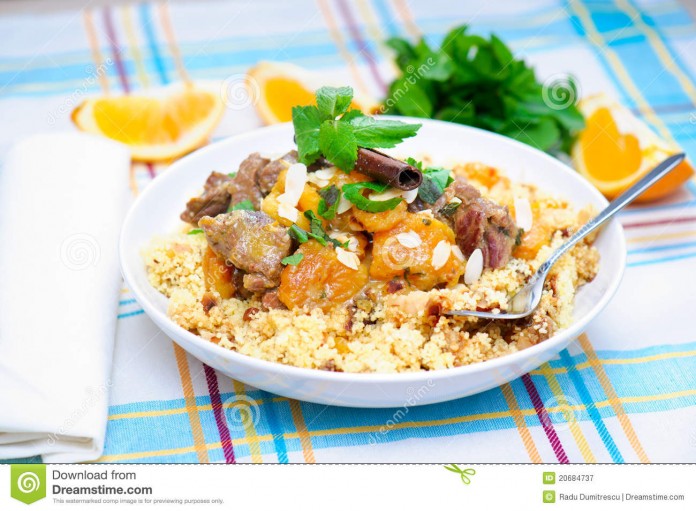 1 1/4 C low-sodium chicken broth
2 Tbsp raisins
1 C whole wheat couscous
1 Tbsp fresh mint, rinsed, dried, and chopped (or 1 tsp dried)
1 Tbsp unsalted sliced almonds, toasted medium orange, rinsed, for 1 Tbsp zest (use a grater to take a thin layer of skin off the orange)
Combine chicken broth and raisins in a small saucepan. Bring to a boil over high heat.
Add couscous, and return to a boil. Cover and remove from heat.
Let the saucepan stand for about 5 minutes, until the couscous has absorbed all of the broth.
Meanwhile, toast almonds in the toaster oven on a foil-lined tray for about 5 minutes, or until golden brown.
Remove the lid and fluff the couscous with a fork. Gently mix in the mint, almonds, and orange zest. Serve immediately.
This is a great recipe for older children to make themselves. Younger children can help measure ingredients and zest the orange.
prep time: 10 minutes
cook time: 20 minutes (including 10 minutes standing time)
yield: 4 servings
serving size: 3/4 C couscous
Each Serving Provides:
calories 141
total fat 2 g
saturated fat 0 g
cholesterol 0 mg
sodium 24 mg
total fiber 4 g
protein 6 g
carbohydrates 28 g
potassium 118 mg
vitamin A 0%
vitamin C 4%
calcium 2%
iron 6%
*Percent Daily Values are based on a 2,000 calorie diet.