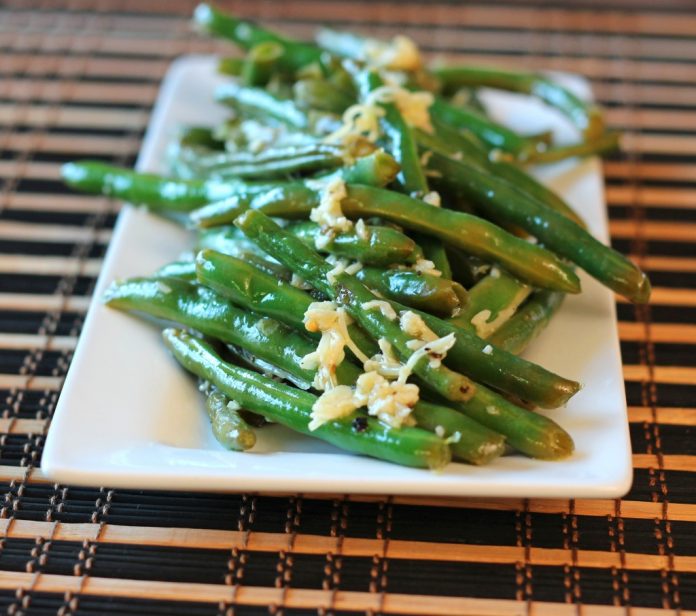 1 Tbsp olive oil
1 tsp garlic, minced (about 1 clove) (or 1/4 tsp garlic powder)
1 small onion, thinly sliced (about 1/2 C)
1 bag (16 oz) frozen green beans
1 C low-sodium chicken broth
1/4 C grated Parmesan cheese
1/4 tsp ground black pepper
Combine olive oil and garlic in large saucepan. Cook until garlic is soft, but not browned (about 30 seconds).
Add onion, and continue to cook for about 5 minutes over medium heat until soft.
Add green beans and chicken broth. Bring to a boil and simmer for 2 minutes, until the beans are heated through.
Sprinkle with Parmesan cheese and pepper, and serve.
Tip: Try on the side of Turkey and Beef Meatballs With Whole-Wheat Spaghetti
Chefs In Training: Children can help sprinkle with cheese and pepper.
Prep Time: 5 minutes
Cook Time: 8 minutes
Yeild: 4 servings
Serving Size: 1C green bean mix
Each Serving Provides:
Calories- 95
total fat- 5 g
saturated fat- 1 g
cholesterol- 4 mg
sodium- 117 mg
total fiber- 3 g
protein- 5 g
carbohydrates 9 g
potassium- 293 mg
vitamin A- 15%
vitamin C- 25%
calcium- 10%
iron- 4%
Percent Daily Values are based on a 2,000 calorie diet.