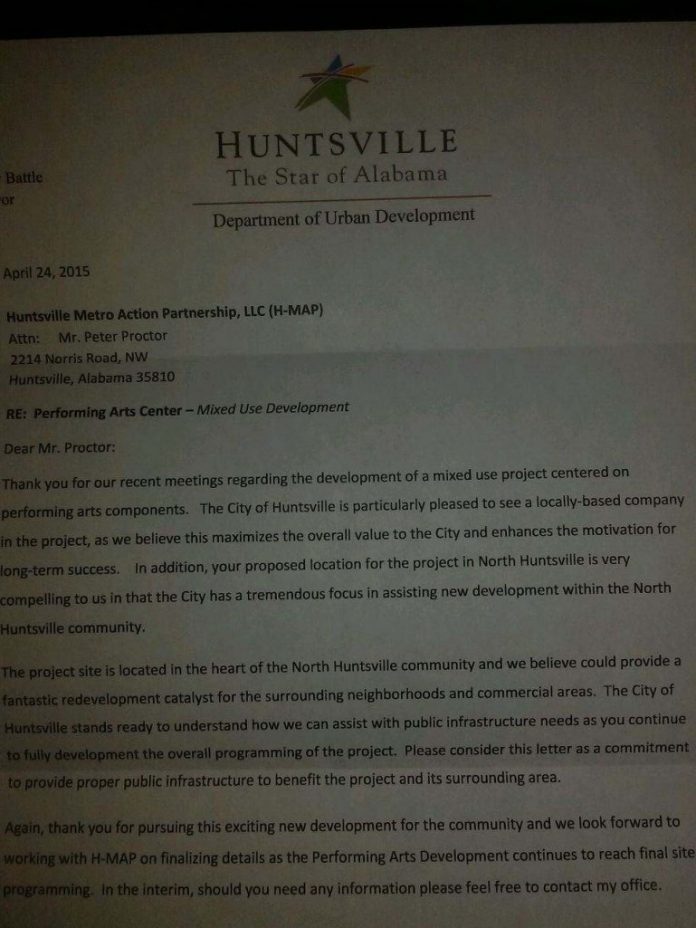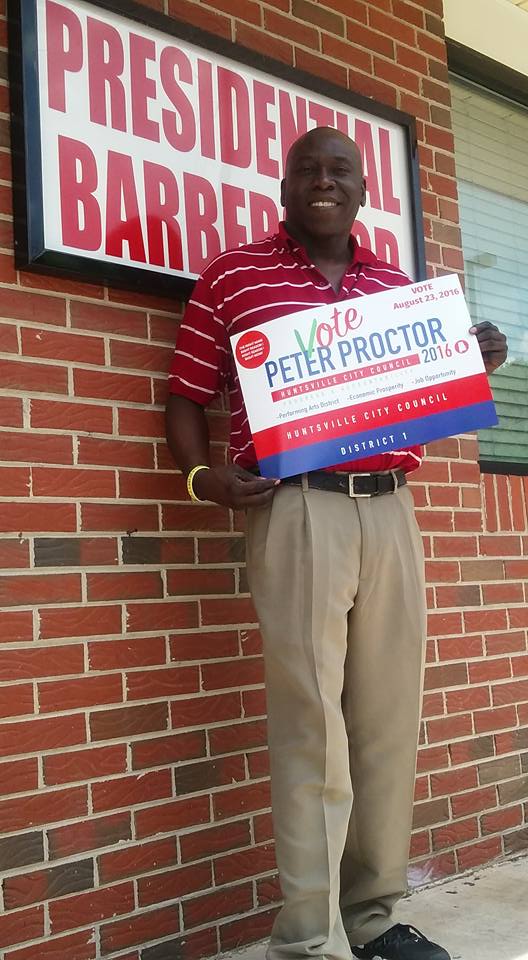 Peter Proctor is the right person for the task of lifting North Huntsville, Alabama out of its economic despair. Mr. Proctor has for many years talked about A Multi-Media Performing Arts Theme Park which will be a work & living district that will create economic prosperity. This community will also have an educational center that will be the foundation workforce for the performing arts district as well as seek the use of Johnson High School for training and other things to keep it alive. All of Huntsville would benefit from this performing arts district. Mr. Proctor is addressing the distribution of tax dollars that need to be retained by the citizens of Huntsville especially in the north end of Huntsville. This could also be a central hub for area performers because at the moment they are loosely connected. A Performing Arts District will create Millennials who are business owners instead of employees. Living in a work and live community gives them a chance to perfect their talents and strengthens their business experience.
Although Peter Proctor has been talking about a performing arts district for years last year (April 24th, 2015) he got a commitment from Huntsville, Alabama Department of Urban Development. None of the candidates are talking about a solid plan that they have to bring economic prosperity to North Huntsville. They're only are offering vague ideas and in some cases merging those vague ideas with what Peter Proctor, Jr has been laying out for years. One candidate is saying we just need to develop a plan for economic growth and attract retail. Maybe she has been asleep for the past few years while one of her opponents Peter Proctor had the vision, then got a commitment "last year" from Huntsville, Alabama city office of Urban Development. The people are calling for a performing arts district for the north and they have someone to carry it out. Peter Proctor pushed his vision forward to the city and got results. The city is committed to Mr. Proctor's plan of a performing arts district in North Huntsville so while other candidates are soliciting your help in "developing a plan" Mr. Proctor has District 1 plans already on the table since last year. You should have had the plan a long time ago. Candidate Proctor is the only candidate with a commitment from the city of Huntsville concerning a very viable plan. We all know Mr. Proctor has been the person promoting the Performing Arts District in North Huntsville. The fact of the matter is that candidate Peter Proctor is the only one of the candidates to have the city (Department of Urban Development) believe in and commit to their vision and have them (Urban Development) say: "The project site is located in the heart of the North Huntsville community and we believe could provide a fantastic, redevelopment catalyst for the surrounding neighborhoods and commercial areas"-Shane A. Davis, Director of Urban Development city of Huntsville, Alabama.
On August 23rd, 2016 vote for Peter Proctor, Jr. and send the message that you're ready for economic prosperity in District 1 from day 1. Mr. Proctor is very concerned with the lack of economic chances and opportunity in North Huntsville. He believes it's time to focus on personal and communal Empowerment and that's why he believes in our youth and young adults. Peter Proctor, Jr. is concerned about economic well-being and he will put that before splash pads. Recreational well-being is good but it's best enjoyed when you have economic prosperity. In his first 30 days you will know you got a representative.