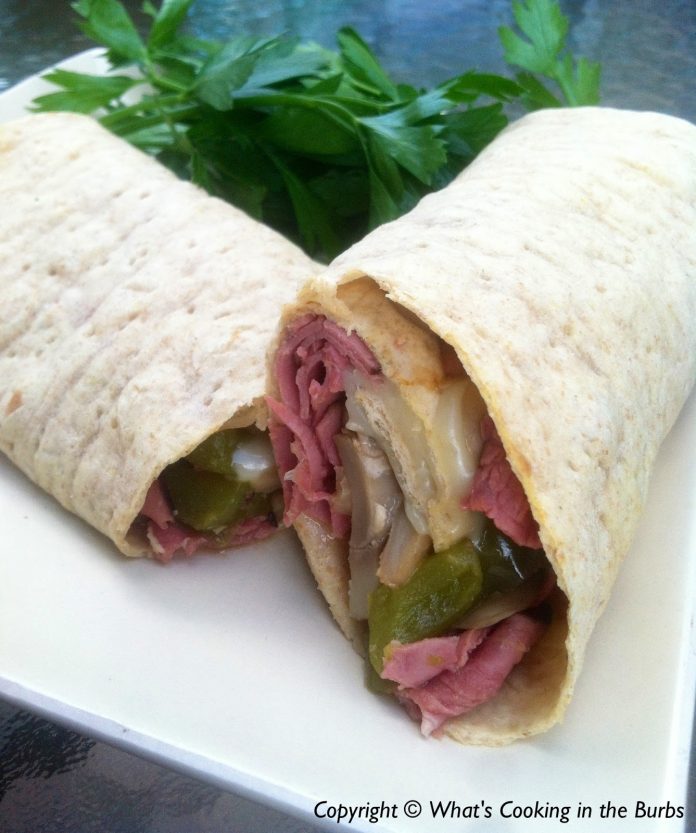 1 tablespoon beef bouillon granules
1/2 cup water
3 garlic cloves, pressed
1/8 teaspoon ground black pepper
1 boneless beef top sirloin steak, cut 1 inch thick (1 pound)
1 small onion, cut into 1/4 inch slices Vegetable oil
2 cups (4 ounces) shredded mozzarella cheese
4 (9-10 inch) flour tortillas
Combine bouillon granules, water, garlic pressed with Garlic Press and black pepper in Small Batter Bowl. Place marinade and steak in resealable plastic food storage bag; turn to coat. Marinate in refrigerator 1-3 hour, turning occasionally.
When ready to serve, cut bell pepper into 1/4-inch strips and onion into 1/4-inch slices using Utility Knife. Remove steak from marinade; lightly pat steak with paper towel to absorb some of the moisture. Discard marinade.
Heat Professional Grill Pan over medium-high heat 5 minutes. Place steak in pan; cook 6-8 minutes or until steak is medium rare (145 F) to medium (160 F) doneness, turning once using Bamboo Tongs. Remove steak to Large Grooved Cutting Board; cover loosely with aluminum foil.
Return pan to medium-high heat. Lightly spray pan with vegetable oil using Kitchen Spritzer. Add bell pepper and onion; cook 5-7 minutes or until vegetables are crisp-tender, turning occasionally. Remove vegetables to Classic Batter Bowl. Wipe pan with paper towel; set aside.
Using Carving Set, carve steak crosswise into thin slices. For each wrap, sprinkle 1/2 cup mozzarella cheese over tortilla. Place one fourth of the steak and vegetables in center; roll up tightly. Repeat with remaining tortillas, steak and vegetables.
Heat pan over medium-high heat until hot. Place wraps lightly with vegetable oil; cook 2-3 minutes on each side or until grill marks appear deep golden brown. Remove wraps to cutting board; cut each wrap diagonally in half. Serve immediately.
Yield: 4 Servings
Nutrients per serving (1 wrap): Calories 600, Total Fat 25g, Saturated Fat 12 g, Cholesterol 145 mg, Carbohydrate 42 g, Protein 52 g, Sodium 740 mg, Fiber 2 g
Diabetic exchanges per serving (1 wrap): 2 1/2 starch, 1 vegetable, 6 meat (2 1/2 carb)
*Menu Suggestion:
Serve these hearty beef wraps with a colorful salad or a big bowl of your favorite soup.