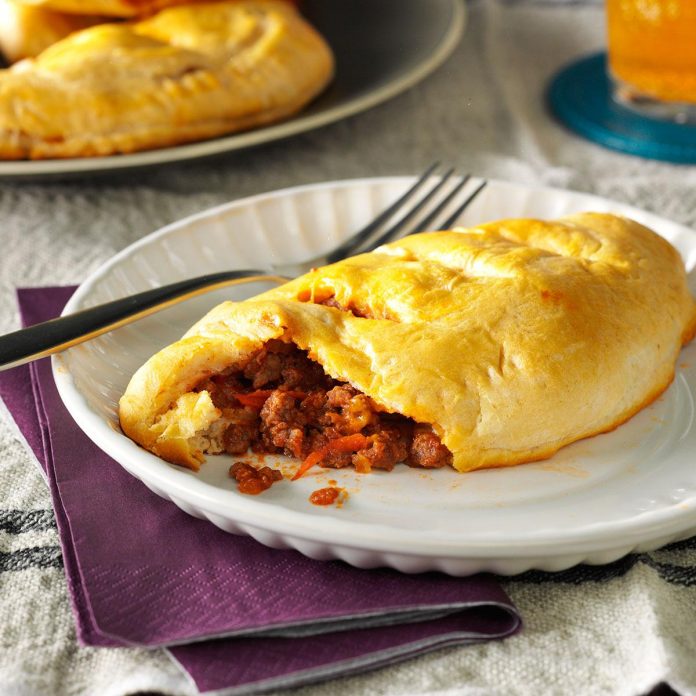 1/2 recipe prepared Make-Ahead Seasoned Ground Beef
2 tablespoons packed brown sugar
2 teaspoon prepared mustard
1/2 teaspoon ground allspice (optional)
2 pita pocket bread rounds, cut in half
4 slices (3/4 ounce each) American cheese, cut diagonally in half Green bell pepper rings (optional)
Place prepared ground beef mixture in Small Micro-Cooker Stir in ketchup, brown sugar, mustard and allspice, if desired. Microwave, covered, on HIGH 4-5 minutes or until thoroughly heated, stirring after 2 minutes.
Wrap pita bread pockets in microwave-safe plastic wrap. Microwave on HIGH 30 seconds to soften. Place cheese slices in pockets. Fill with ground beef mixture. Garnish with bell pepper rings.
Yield: 4 sandwiches
Nutrients per serving:
Calories 350
Total Fat 13 g
Saturated Fat 6 g
Cholesterol 50 mg
Carbohydrate 29 g
Protein 29 g
Sodium 1010 mg
Fiber 2 g
MENU SUGGESTION:
Look to the deli and produce sections of your local grocery store for a selection of quick accompaniments. Fruit salad, Kosher pickles or vegetable sticks would all be good choices.