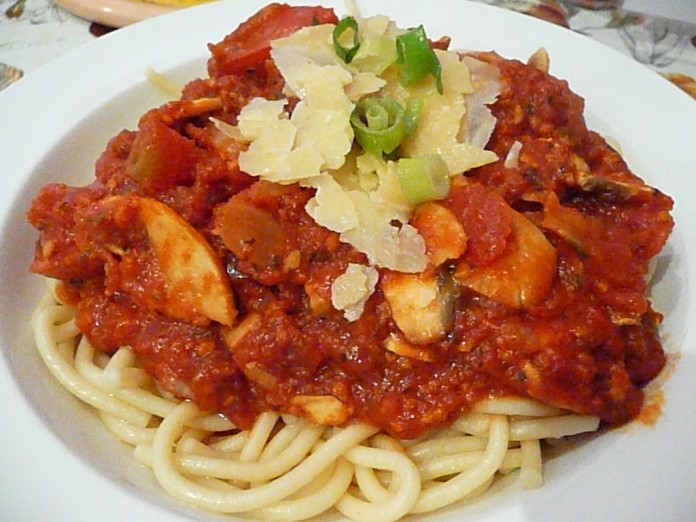 *Makes batches of this tasty sauce to go with a number of recipes in this cookbook
2 tsp: olive oil
1 tsp: garlic, chopped (about 1 clove)
1 jar: (12 oz) roasted red peppers, drained and diced (or substitute fresh roasted red peppers; see tip)
2 cans: (14 1/2 oz each) no-salt added diced tomatoes
1 can: (5 1/2 oz) low-sodium tomato juice
1 Tbsp: fresh basil. rinsed, dried, and chopped (or 1 tsp dried)
1/4 tsp: ground black pepper
In a medium saucepan, heat olive oil and garlic over medium heat. Cook until soft, but not browned (for about 30 seconds).
Add diced red peppers, and continue to cook for 2-3 minutes, until the peppers begin to sizzle.
Add tomatoes, tomato juice, basil, and pepper. Bring to a boil. Simmer for 10 minutes, or until the sauce thickens slightly. (Sauce can be pureed for picky eaters.)
Use immediately. Or, refrigerate in a tightly sealed container for 3-5 days or freeze for 1-2 months.
*Older children can chop the roasted red peppers and help cook the sauce. For a delicious change, try making fresh roasted red peppers.
prep time: 5 minutes
cook time: 15 minutes (add 15 minutes if making homemade roasted red peppers)
yield: 12 servings
serving size: 1/2 sauce
Each Serving Provides: 
Calories–31
Total Fat–1 g
Saturated Fat–0 g
Cholesterol–0 mg
Sodium–76 mg
Total Fiber–1 g
Protein–1 g
Carbohydrates–4 g
Potassium–66 mg
Vitamin A–6%
Vitamin C–15%
Calcium–2%
Iron–2%