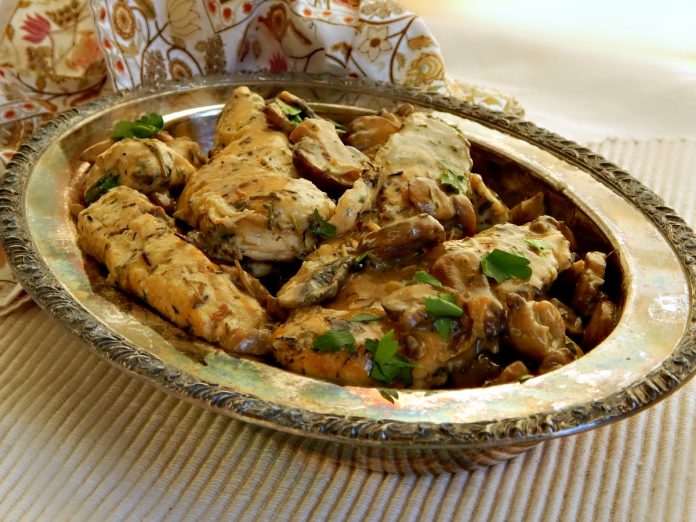 Ingredients:
8 Chicken thighs, skin on
1/4 tsp. kosher salt
1/8 tsp. black pepper
2 Tbsp. snipped fresh rosemary
2 Tbsp. snipped fresh thyme
1 Tbsp. extra virgin olive oil
8 oz. cremini or button mushrooms, halved
1 Tbsp. all-purpose flour
1 cup chicken broth
1/2 cup dry white wine
2 Tbsp. Dijon mustard
Preparations: 
Preheat oven to 400 F. Season chicken on both sides with salt, pepper, 1 Tbsp. of rosemary, and 1 Tbsp. of thyme. In a large oven-going skillet heat olive oil over medium heat. Add chicken, skin sides down; cook 5 to 7 minutes until browned on one side. Turn chicken pieces over and place skillet in oven. Bake 15-20 minutes or until done (170 F).
Remove chicken from skillet; set aside and cover to keep warm. In the same skillet cook and stir mushrooms over medium-high heat 4 minutes. Add flour to skillet, stirring to coat. Stir in chicken broth, wine, and mustard. Cook and stir until thickened and bubbly; cook and stir 1 minute more. Remove skillet from heat. Add remaining rosemary, thyme, and the parsley. Serve mushrooms and sauce over chicken. Makes 4 servings.
Each serving contains:
246 Calories
9 grams of fat
131 mg of cholesterol
647 mg sodium
5 g carbohydrates
1 g fiber
29 g protein