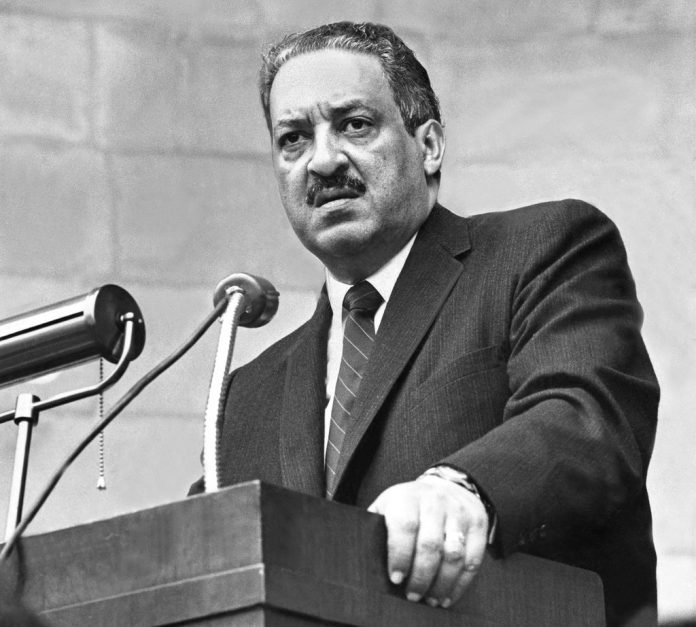 1991-US Supreme Court Justice Thurgood Marshall, citing illness, announces his retirement from the nation's highest court after 24 years of service.
1978-U.S. Supreme Court ordered the University of California Medical School at Davis to admit Allan P. Bakke in so-called reverse discrimination suit.
1970-Muhammad Ali, (born Cassius Clay) stands before the Supreme Court regarding his refusal of induction into the US Army during the Vietnam War (Clay v-United States). He is asked "How can you be a pacifist opposed to the idea of war?" One of Ali's responses goes as follows, "I am not going ten thousand miles from here to help murder and kill and burn poor people simply to help continue the domination of white slave masters over the darker people."
1964-Organization for Afro-American Unity founded in New York by Malcolm X.
1874-Freedmen's Bank closed. Black depositors had some $3 million in the bank, which had an imposing headquarters in Washington and branches in various cities President Frederick Douglass said later that the Freedmen's Bank had been "the Black man's cow and the white man's milk.
1839-Cinque kidnapped. Cinque, originally Senghbe, the son of a  Mende king, along with several other Africans, is kidnapped and sold into slavery in Cuba. Cinque and his companions will later carry out the famous successful revolt upon the slave ship Amistad.
1770-Quakers, led by Anthony Bennezet, opened a school for Blacks in Philadelphia.