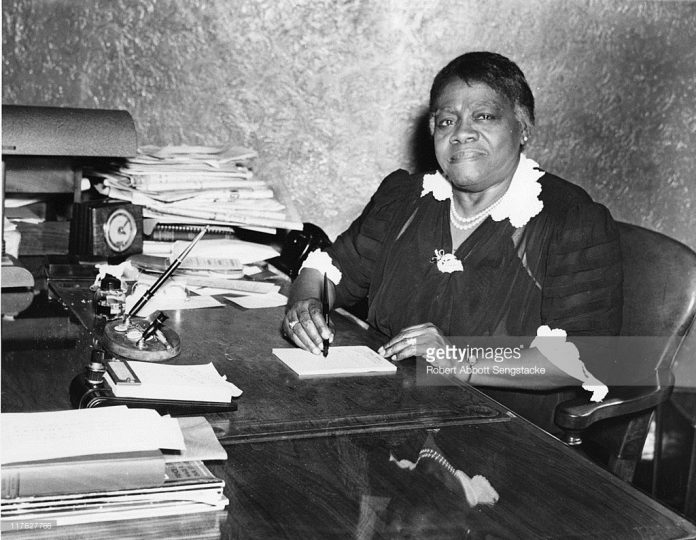 1971-President Nixon rejected the sixty demands of the Congressional Black Caucus, saying his administration would continue to support "jobs, income and tangible benefits, the pledges that this society has made to the disadvantaged in the past decade." the caucus expressed deep disappointment with the reply and said the Nixon administration "lacked a sense of understanding, urgency and commitment in dealing with the critical problems facing Black Americans."
1962-Ernie Davis, star running back at Syracuse University; first black player to win the Heisman Trophy in 1961 died on of leukemia before playing a pro game.
1960-Yannick Noah was born in Sedan, France. He went on to win 39 professional tennis titles including the 1983 French Open.
1955-Death of Mary McLeod Bethune (79), educator and civil rights leader, Daytona Beach, Florida. She was the fifteenth of seventeen children of Samuel and Patsy McLeod, slaves on the McLeod Plantation in Mayesville, South Carolina. Born after the Emancipation Mary McLeod was a free woman. Seeing the overriding importance of real freedom and equality, she became a powerful force in the emerging struggle for civil rights. Beginning as an educator and founder of a school which bears her name, she became the valued counselor to four presidents, the director of a major government agency, the founder of a major organization for human rights (the National Council for Negro Women), and a consultant to world figures seeking to build universal peace through the United Nations. Mrs. Bethune obtained prominence as an educator. She founded the Daytona Normal School for Negro Girls into Bethune-Cookman College, brought her into contact with important political and financial figures. Under President Calvin Coolidge, and later Herbert Hoover, the national government began utilizing Mrs. Bethune's considerable experience for the National Child Welfare Commission…However, it was Franklin Delano Roosevelt who recognized the important role of Mary McLeod Bethune could play in the implementation of his "New Deal" policies. Roosevelt created the office of Special Adviser on Minority Affairs in 1935. This position later became a part of the National Youth Administration (NYA). Was a leader in the Black Women's Club Movement and served as President of the National Association of Colored Women. Mary was a delegate and adviser to national conferences on education, child welfare, and home ownership. Was Director of Negro Affairs in the the National Youth Administration from 1936 to 1944. She also served as consultant to the U.S. Secretary of War for selection of the first female officer candidates. She was also appointed consultant on international affairs and understanding at the charter conference of the U.N. Founder of the National Council of Negro Women. Vice-President of the NAACP. Mary was awarded the Haitian Medal of Honor and Merit, that country's highest award. In Liberia she received the honor of Commander of the Order of the Star of Africa.
1946-Reginald Martinez Jackson was born in Wyncote, Pa. He went on to be known as Reggie Jackson, star baseball player for the Oakland A's and New York Yankees. He will set or tie seven World Series records.
1896-U.S. Supreme Court decision (Plessy v. Ferguson) upheld doctrine of "separate but equal" and began age of Jim Crow.
1848-Death of William A. Leidesdorf (38), in San Francisco. He was one of the earliest mixed-race U.S. citizens in California and a highly successful. He was a black businessman and explorer. Leidesdorff was born in St. Croix, Virgin Islands, to a Danish father and an African mother. He was a merchant captain first in New York, then New Orleans, and, by 1841, in California.