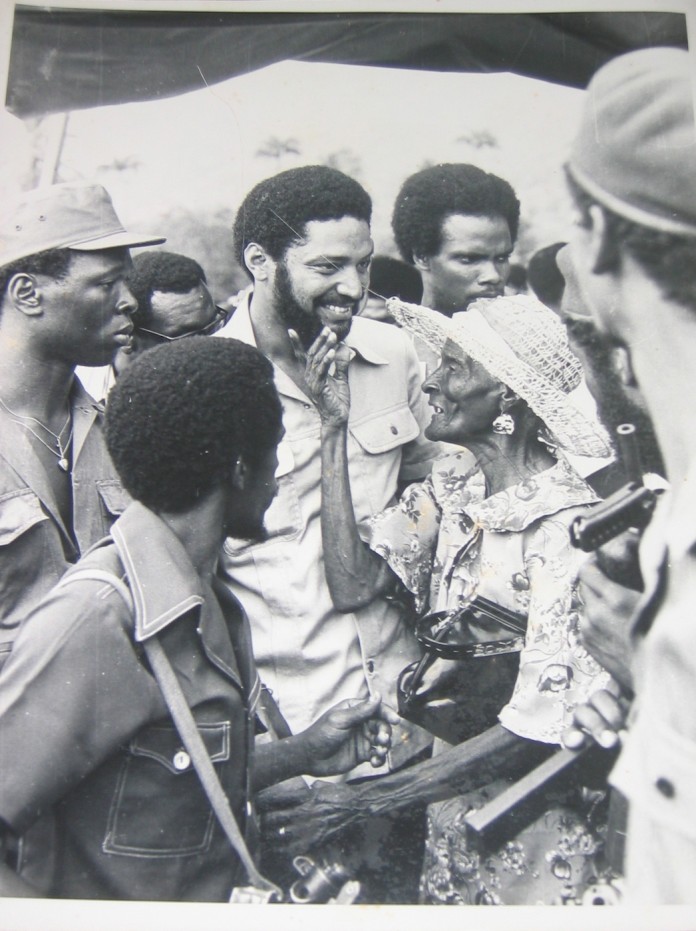 1979-Maurice Bishop wins Grenadian government In the island Republic of Grenada, the New Jewel Movement, headed by U.S. educated Maurice Bishop, ousted the government of Prime Minister Gairy.
1957-John Lee, first black commissioned officer in the U.S. Navy is assigned to duty. December 1944-January 1945. The U.S. Army integrated black volunteers with white troops to fight during the "Battle of the Bulge," the Germans last desperate counteroffensive to break through in the Ardennes forest in Belgium. Over 5,000 African-American soldiers in the Army's service units volunteered; 2,500 of them were accepted. After 6 weeks of training, the black troops were organized into 37 platoons of 40 men each, which were then attached to white units of 200 men each. Suggested by General John Lee and approved by General Dwight D. Eisenhower, this was the first and only example of an integrated Army fighting force in WWII. White officers later judged that these black soldiers had performed "very well" or "fairly well." Although this experiment proved to be quite successful, the Army withheld a favorable survey on the intermixing of its troops because it would supposedly have undermined southern political support for a postwar peacetime draft.
1946-Col. B.O. Davis Jr assumed command of Lockbourne Air Force Base, Ohio. The Tuskegee Airmen are the black pilots, bombardiers, navigators and support personnel trained during World War II. The fighter pilots of the 99th Fighter Group of the U.S. Army Air Corps, led by Col. B.O. Davis Jr., distinguished themselves in combat in numerous missions in the European theater during 1944 through 1946.
1932-Publication of the First Black Daily Newspaper. Founded by William A. Scott, III, the Atlanta Daily World.
1918-Sculptor James Rhoden was born.
1869-Arkansas legislature passed an Anti-Klan Law.
1862-Congress forbade Union officers and soldiers to aid in the capture and return of fugitive slaves, ending what one historian called the "military slave hunt."
1861-Jefferson Davis signed bill authorizing use of slaves as soldiers in the Confederate army.